Do you need to move a refrigerator to another apartment? Or you want to relocate laundry machines to your parents' home? Perhaps you need to move appliances from one facility to another? Then you need experienced appliance movers.
Moving appliances is a tough work. It requires extreme care, delicacy, and experience. If you need to relocate your appliances, it's always better to get professional assistance. Whether it's a part of a large move or a single item relocation, appliance moving comes with numerous nuances.
At Torex, we've been offering appliance moving services for over 12 years. Whether you need to move a refrigerator, laundry machines, stove or any other appliances, we are always ready to help.
Our professional appliance movers know all the ins and outs of this delicate moving process. We have experience handling all types of appliances. Each item needs a special, white-glove approach, which we are ready to provide you with.
Besides moving, we also offer:
Appliance packing services
Mobile appliance storage service
Old or broken appliance removal service
We are always happy to give you professional advice and arrange a delicate and safe delivery.
Get a Quote for Appliance Moving Services
WHY TOREX EXPERTS ARE THE BEST TORONTO APPLIANCE MOVERS
When choosing a moving company in Toronto, you can come across numerous offers. From refrigerator movers to furniture delivery, moving companies tend to offer a variety of services. However, it can be hard to find moving experts who focus specifically on appliance moving.
At Torex, our goal is to get appliances to their new destination safely, whether you are moving them together with furniture or need to arrange only a small move. Here is why we are the best appliance movers for your next moving project:
Experience – our team has been moving appliances for over 12 years. We know how to move the most delicate items from one place to another safely.
Mobile Storage – if you need to store your appliance between the moves or for any other reasons, we provide a mobile storage service and keep everything under control. We can deliver your appliances to a location of your choice at any convenient time.
Insurance – Torex includes basic insurance in the price of the move. We can also arrange extra insurance for your items if necessary.
Packing – to ensure a damage-free delivery, you need help packing your appliances. Torex offers a high-quality packing service that includes professional packing materials. When your appliances safely arrive at their destination, unpacking them will be easy.
Reasonable prices – when you plan to have your appliance moved, you want to ensure that the cost is reasonable. We focus on making any type of move available to our residential and commercial clients. That's why you can be sure that you'll get the right quote and an opportunity to save money.
The cost of the appliance move depends on how much time the move takes. If the distance is under 20 km and work will not take more than 1.5 hours, you'll get a fixed price of $200. If the distance is longer, our experts will give you an individual estimate.
If you'd like to learn more about moving your appliance to its new destination, contact us to get a quote. You can call us or leave a request 24/7.
HOW TO PREPARE FOR MOVING OF YOUR APPLIANCES?
To make sure the move proceeds smoothly, we ask our clients to follow a few simple rules:
If you are moving a refrigerator, it should be empty.
All appliances must be disconnected from water and electricity. If you need professional assistance disconnecting your appliances, we can invite the right experts for an additional charge.
We take responsibility for the external condition of your appliances. However, we can't be responsible for its performance if it wasn't disconnected by our specialists.
We can move disassembled appliances as long as they are properly disconnected.
WHY YOU NEED PROFESSIONAL APPLIANCE MOVERS IN TORONTO
Whether you need to move the entire house, including furniture and belongings or simply need to relocate one appliance, it's always a good idea to ask for help. Appliances are highly delicate items that need special care.
To make sure that your appliances are being delivered safe we use the protective moving equipment for it.
A large selection of dollies - to smoothly move any size and type of your appliance
Straps - to secure the items in the truck
Runners - to protect the floors in your home
Moving appliances on your own is usually time-consuming and costly. You need to buy the right packing materials, find proper equipment, and rent a truck. Without experience, the entire process could turn out to be extremely complicated.
Appliances are often heavy. Lifting them can be a serious strain on your back, especially without any proper professional equipment.
By working with professional appliance movers, you don't have to worry about packing, equipment, insurance, or transportation. You get a full service package at a reasonable price.
At Torex, we have everything under control from the time you give us a call to the moment your appliance arrives at the destination.
Getting a Moving Quote is simple. It's fast & easy!
Customers Are Talking
The team from Torex was absolutely fantastic. They were efficient, professional, and handled my items with great care. I highly recommend them for anyone needing a reliable moving service.

They provided exceptional service when I relocated my apartment. The team was professional, efficient, and took great care in handling my belongings. I can't thank them enough for making the moving process so smooth and stress-free.

Sammy Henderson
1695383520
The team at Torex was fantastic. They were punctual, efficient, and incredibly careful with all of my belongings. Their customer service was top-notch and they really made my move a lot less stressful. I would highly recommend Torex Moving!

I had a fantastic experience with Torex. The moving crew was professional and handled my precious items with the utmost care. The entire process, from getting a quote to the actual move, was straightforward and hassle-free.

What a fantastic experience with Torex!The team was respectful, thorough, and took great care in moving my items. Their professionalism and dedication to customer satisfaction were evident throughout the process.

I had a great experience with this moving company. The team was punctual, respectful, and took great care of my items. They made my moving day a breeze.

WHY PACKING IS IMPORTANT FOR SAFE APPLIANCE MOVING IN TORONTO
While appliances are often large and heavy, they are highly delicate inside Even seemingly minor damage could lead to unexpected expenses.
Packing your appliance can keep the damage to a minimum and ensure safety when it's being transported in a truck. Many homeowners don't realize how to pack appliances to avoid damage. Simply wrapping them often doesn't do the trick.
Our team of professional appliance movers knows exactly how to pack any appliance, from a dryer to a dishwasher. We can help ensure that it arrives at the destination without incurring any damage.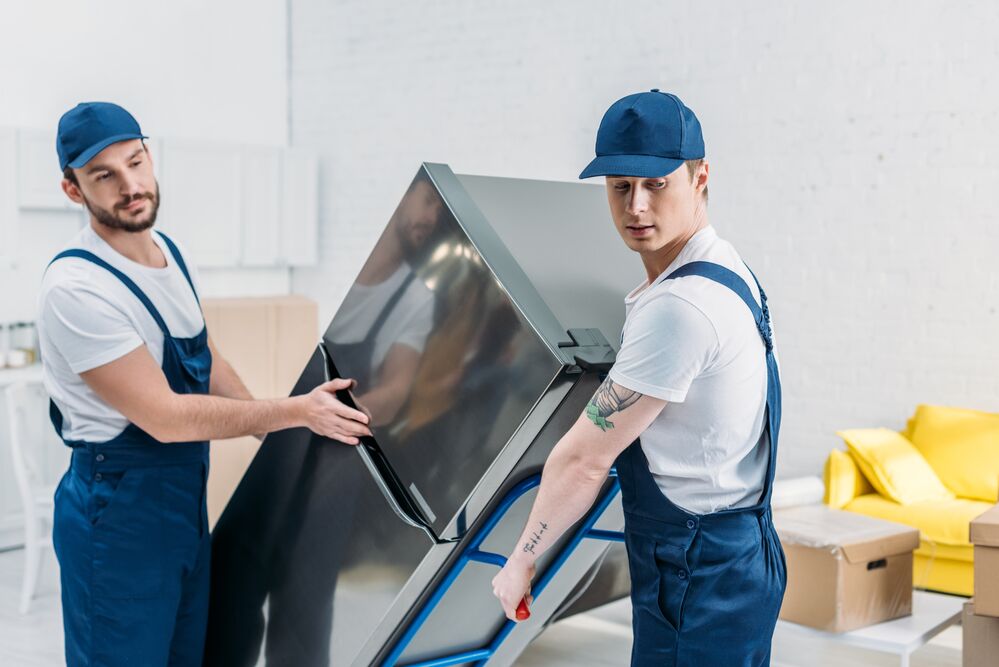 HOW TO CHOOSE TORONTO APPLIANCE MOVERS
Here are a few things to keep in mind when deciding to hire an appliance moving company.
Choose a company that focuses on comprehensive appliance moving. Refrigerator movers may not be ready to deal with small appliances. Meanwhile, furniture movers may not have efficient equipment to move delicate items.
Remember that to lift a heavy appliance, you need at least two people. To prevent problems with lifting your belongings, choose a company that has a sufficient number of team members.
Experienced appliance movers never hesitate to share details about their equipment, be it a dolly or a truck. When planning to move an appliance, ask the company how they plan to pack, move, or store it.
Heavy machines require special attention. Ask movers if they have experience with appliances like yours.
Some companies focus solely on residential or commercial moves. Check with the movers to find out if they can handle your project.
At Torex, we are always happy to move appliances. Give us a call to discuss your moving plans.