Are you looking for a reliable, professional commercial moving company in Toronto that will efficiently take care of all your moving needs?
As experienced commercial office movers, we realize that an office move means much more than transporting the office furniture from one location to another. At Torex Moving, we get it. We understand the pressures related to commercial moving and the concerns you may have about packing and unpacking, safety, deadlines, delicate handling, transportation, insurance, and more.
Throughout the years, we have mastered the art of providing complete commercial office moving services in Toronto and GTA area. We're not your average commercial moving company. We have the skilled office movers, the vehicles, and the equipment needed to make your office move stress-free. As our professional office movers take care of everything related to your commercial move, you can focus on all the important aspects of running your business.
A LIST OF OUR COMMERCIAL MOVING SERVICES IN TORONTO:
Office equipment packing service
Local office moving services
International office moving services
Non standard heavy office equipment moving
Fragile, antique (artifact) and art stuff moving
Get a Quote for Commercial Moving
Benefits of Torex - Toronto Commercial Moving Company
We are professional office movers who provide comprehensive commercial moving services. Contrary to many commercial moving companies, our services start long before the actual moving of the items. The first step is to create a personalized plan that suits your needs, ensures safety procedures, and provides all necessary instructions to make the office moving process orderly and efficient.
Then, we execute the plan. We carefully disassemble, pack, tag/mark and secure all your office furniture, inventory and other objects. We have the necessary packing materials and the office movers who know how to do it quickly and safely. We know how to handle delicate items and equipment with care.
Now it's time to arrange safe transport to your new office location. Knowing how to go about packing, stacking items in the vehicle, and driving the full truck smoothly are all part of our Toronto office movers' expertise. At Torex Moving, we have extensive experience, and our office movers undergo regular training to ensure the safety, speed, installation, and security of your commercial move.
As the best commercial moving company in Toronto, we value your time and choice for an office move. We offer same-day office moves, so you don't have to worry about delays and downtime. But what if you are moving to a location beyond the GTA? No problem! We are long-distance office movers too and guarantee the high quality of our services.
Once all your office furniture and other commercial space items have been carefully transported, we don't just drop them off and leave. We know that if you aren't an expert, unpacking and assembling office furniture and other office equipment can take a few days – time that you can't and don't want to go without.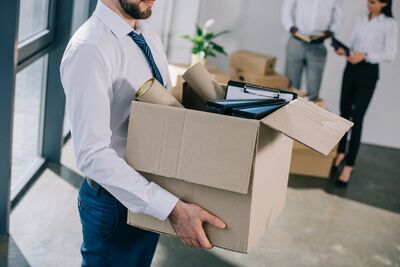 At Torex Moving, we have years of experience dealing with all types of large and small commercial office furniture and other items. We provide assembling and installation services on the spot so you can resume your business operations immediately after the relocation is completed. We are also efficient with proper junk removal, storage services and have moving supplies according to your needs.
We offer full service, solve any problems no matter what and where do you need to move; we're experts; we have professional equipment and everything needed to do the work.
WHAT MAKES TOREX MOVING THE BEST COMMERCIAL MOVERS IN TORONTO & BEYOND
Expertise and experience. Including 13 years of office moving experience and extensive expertise, we pride ourselves on being top commercial movers in Toronto.
Complete office moving service and supplies.
The crew. Our Toronto office movers are regularly trained to take care of each aspect of your move safely and efficiently.
The equipment. We have all the professional equipment and tools needed to provide top-notch office moving services in Toronto area.
The trucks. Our fleet is well-equipped and secure, perfect for small and big commercial moves. All trucks are equipped with GPS, so you can track your move in real-time.
Insurance. We are fully bonded and licensed. Standard business insurance included into the price and we provide additional insurance We provide moving insurance to give you total peace of mind.
Affordability. Check out our prices. They are designed to make your commercial moving costs reasonable.
Our Specialized Commercial Moving Services in Toronto and GTA
We provide customized commercial moving solutions adapted to your specific needs.
Office Moving
Office moving is one of our most popular services. We know that moving office furniture and equipment is not a simple job. We have all it takes to make your next office move easy and secure and get your new office space up and running as quickly and possible.
Medical Moving
Moving a medical facility and/or a lab is a very delicate job. We have the knowledge, trained professionals, and specialized tools needed to handle case goods, glassware, electronics, as well as sensitive and heavy medical equipment properly and safely.
IT Inventory Moving
The downtime is costly. There is no time to waste during your tech and data center move. Our "IT disconnect, move and reconnect" projects adapt to your specific needs and reduce downtime to the absolute minimum.
Warehouse Moving
A warehouse move requires a lot of precise planning. We provide safe and smooth relocation services ensuring that no inventory is lost or misplaced during the moving process.
Schools & Universities Moving
There is a lot of things to take care of during a school move. Our team will help you plan and execute the process of relocating department and administrative offices, classrooms, labs, research centers, medical centers, libraries, and even student housing.
Restaurants and Cafes Moving
If you are planning on moving your restaurant or cafe to a better location we will make sure that all the furniture, appliances and equipment are securely transported to your new place so that your old and new customers can enjoy your food and drinks again in no time.
Specialty Moving
From pianos through aquariums, museums, memorabilia, special archives to confidential materials – we offer impeccable specialty moving services. Tell us what you need to move, and we will get it done.
WHAT TO LOOK FOR IN PROFESSIONAL TORONTO OFFICE MOVERS
Not all commercial moving companies are alike. You want to hire a professional office mover that has experience making office moves in the Toronto area. Check their reputation in handling delicate furniture and equipment.
Do they have the insurance necessary to make a commercial move? Will they ensure your office relocation is done right and on time? Do they have the staff or the trucks necessary? Will they be able to move quickly while keeping your items safe and secure?
For professional Toronto office movers, you don't need to look further than Torex Commercial and Office Moving Company. Call us to book your next office move. We are happy to help if the job is big or small.
The friendly commercial movers at our Toronto office will take the time to work with you to plan your business moving to a new office. Our team has the experience as office movers in Toronto to get your corporate office moved safely and on time.
Getting an Office Moving Quote is simple. It's fast & easy!
Customers Are Talking
I never thought moving could be a pleasant experience until I hired Torex. From start to finish, they were organized, friendly, and most importantly, on time! I'll definitely be using them for all my future moves.

Torex is the gold standard of moving companies. The crew was so polite and helpful, and they went above and beyond to make sure everything was perfect. I will never use another moving company again!

I was really nervous about moving my antique furniture, but Torex handled everything with the utmost care. All pieces arrived at our new home in perfect condition. They even helped me rearrange the furniture until I was completely satisfied.

We used Torex for our move last month, and I can't say enough good things about them. The team was punctual, professional, and extremely efficient. They took excellent care of our belongings and made sure everything was set up perfectly in our new home.

We moved during a heavy rainstorm, but Torex was undeterred. They took extra precautions to ensure our belongings stayed dry and safe. I was so impressed by their dedication and professionalism.

Outstanding service from Torex! They made an inventory of all our items beforehand and gave us a detailed estimate. The actual move was incredibly smooth and they stuck to the budget. No hidden fees or surprises.

TOREX MOVING - YOUR PERFECT TORONTO COMMERCIAL OFFICE MOVING COMPANY
You don't have to look any further. With Torex Moving, you get a team of professional office movers in Toronto and the GTA. We pride ourselves on offering a full set of moving and storage services for any office of commercial facility.
Whether you are shopping around for small commercial movers in Toronto or would like to move a large office or other commercial business to another province, you have found the right company. As one of the top office moving companies in Toronto, we are ready to place a wide variety of commercial moving services in your hands.
We offer all types of local & long-distance moving services in Toronto, GTA (Mississauga, Brampton, Vaughan, North York, Richmond Hill, Markham, etc.), and other locations in Ontario, helping you relocate to a new place with the least effort.
For your office moving, time is of the essence. You will find our Toronto office movers will be on hand to pack and load your office and have it ready for you at your new office space with little or no disruption to your company. With unmatched customer service, a competitive quote structure, and commitment to moving excellence, it's no wonder that Toronto and GTA businesses trust Torex Moving to handle their demanding office moving and storage needs.
With over a decade of commercial moving experience and outstanding customer service, our movers have all it takes to give you the peace of mind that comes with knowing all of your moves will be free of stress and affordable. We deliver a seamless experience that other Toronto office movers simply can't match.
Our customer reviews prove that we are the best Toronto office moving company, and we hope you'll give us a chance to prove it. If you are looking for an experienced, professional, and affordable moving company in Toronto offering a comprehensive list of commercial moving solutions and relocation services, Torex is here to pleasantly surprise you.
Submit the form, or give us a call (416) 238-4543 or 1-800-509-3534 to get a free quote today. No matter how tough your commercial moving project may seem, we are ready to conquer it as soon as possible.
At Torex Moving, the safety of everyone involved is one of our utmost concerns. In light of this, our office moving crew reserves the right to not transport dangerous items that may become a health hazard.
Prepare for your office moving by providing an area for our truck to park. If a parking ticket is administered, as the client, you will be responsible so please secure parking space if necessary. Remember, it is important to reserve the elevator in your current space as well as your next office location. Ensure the path, including steps, are clear from snow or ice if the move is in winter conditions.