Flat rate versus variable rate. This issue comes up in different areas of life. It might apply to the type of mortgage you pick or perhaps which electricity plan you choose. It can also refer to the type of contract you arrange for your next move.
Movers can be contracted by an hourly rate or by a flat rate. With hourly rates, the movers usually charge from the time they arrive at your house to the time they are completely unpacked and are leaving when the move is complete. Your final bill will include not just the distance of the move but whether or not there are traffic delays.
Issues can arise if it takes longer to move something, or perhaps a railing needs to be removed; you will be charged for this on your final bill. Not sure if that couch will fit around the corner? The time it takes to sort out the removal process or disassemble the couch will be included in the hourly rate bill.
It is hard to know which is cheaper, an hourly or a flat rate move. One thing is certain; a flat rate move is less stressful than an hourly move. With an hourly move, there are factors in play that you have no control over, such as traffic or weather. Remember to also consider the cost of your well-being. Does your peace of mind have value?
Stress is a billion-dollar industry. It can wreak havoc on our health, whether the stress is short-term or chronic. Some experts cite moving as being even more stressful than divorce. What can you do to mitigate your moving stress? While it may be impossible to completely remove all stress from moving, you can control it.
Consider what is truly important to you. Is it better for you to take full control of your move, including the possibility of unanticipated problems and extra costs? Or is it smart to enlist the help of trained professionals, people who do this for a living and are familiar with the issues that can arise? You can always make more money, but you can't always reverse the effects of stress.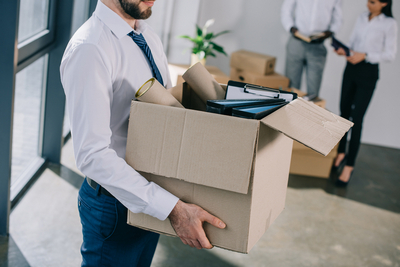 Get a Quote for Flat Rate Moving
WHY CHOOSE FLAT RATE MOVERS?
Torex has been moving in Toronto and the GTA for 13+ years. We have built up the reputation as one of Toronto's best moving companies by treating our customers with the respect they deserve. When you choose us as your flat rate movers, our priority is to provide you with as stress-free a move as possible. Our professional, friendly staff and fleet of well-maintained trucks and mobile storage trailers will ensure your move will be problem-free.
You don't need to take our word for it. We have 2000+ happy customers; check out this positive review:
"I recently used Torex Moving when relocating, and they did a great job. I chose them for their pocket-friendly moving cost since I was looking for cheap moving in Toronto. In addition to their price, their services were exceptional, and I will choose them again when moving. They handled everything professionally, from packing, disassembling, and assembling some of my items, to moving them into my new home. The mover didn't leave my new home until they were sure I was satisfied with how they placed the items in my new home."
John Oakley
You may have heard horror stories associated with moving companies. We assure you this will not be the case when you use Torex flat rate moving services. We work hard to make every move the best experience possible. Our reputation reflects our high work ethic.
I was super impressed with Torex Moving. The movers turned up on time, worked effortlessly to make our move stress-free. Besides, the movers were very courteous and polite. My family and I feel like they went the extra step in everything that we needed done. I was delighted when the movers took apart some of our large items and assembled them back with ease at our new home. Another thing with movers is they were time conscious and very efficient in whatever they did. I have already recommended Torex Moving to a friend, and I will continue to recommend their services to anyone looking for a professional Toronto moving company.
Zachary Hall
At Torex Toronto Moving Company, we promise a high level of service whether you choose a flat rate or an hourly rate move. With either move, we can still provide packing materials, packing and unpacking services, and furniture disassembly/reassembly services. Just let us know what you need when you call us for a flat rate moving estimate.
If you have specialty items such as a pool table or piano, or fragile items such as fine artwork, you will want to ensure you have hired experienced movers. At Torex, we are industry leaders in staff education. You can trust us with your flat-rate move.
Our experienced, licensed movers will take all the necessary precautions to ensure your precious possessions arrive at the destination safely. Our staff is trained with how to pack and load the truck safely, ensuring your possessions aren't damaged in transit. We carry insurance but can include extra insurance if required. Please let our staff know if you have precious or high-value items that need extra attention.
Getting a Moving Quote is simple. It's fast & easy!
Customers Are Talking
I was very impressed with this company. All email contact was always answered almost right away. The guys showed up and went to work completing the job carefully and fast. The move was from Toronto to Peterborough. They showed up only a few minutes after me. The move in was completed as fast as they could limited by only 1 small elevator that could not be put on service. Thankyou Torex

It is a moving company I recommend to all my friends and family. They were excellent from packing to loading to unloading.

Tracey Porter
12:24 12 Nov 21
I thoroughly enjoyed working with them. Were they not there, our move would have been a lot more difficult. I highly recommend them! Thanks!!

Megan Boyd
04:29 11 Nov 21
Punctual, fast and efficient, reasonable pricing as well as discounts. Amazing customer service and follow up. Strongly recommend Torex Moving company to everybody.

Helped me move a professional treadmill, last minute move worked out great. Thanks again.

Alex Gatsis
21:03 06 Nov 21
Professionals in their field, they did everything quickly and accurately. Next time we will refer to them again.

Арина Фролова
20:17 03 Nov 21
Great company. Thank you for helping us move. I was so worried. The movers arrived quickly, the things were neatly transported. I recommend!

They made moving a breeze for me. Everything was handled flawlessly by them, so I had no responsibility. Thank you so much! Highly recommended!

Kristin Hicks
07:09 03 Nov 21
The movers did a great job! Everything was in good hands with them. My experience with them was excellent. They were respectful and polite.

Roger Campbell
06:50 02 Nov 21
I was very impressed with your work! I hired them to assist me with moving my stuff. The experience has been great. Thanks for all your help.

Tina Armstrong
08:05 01 Nov 21
They were a pleasure to move with, and I appreciate all the help you provided. It was a pleasure to work with them. Definitely recommend.

Gail D. Lees
12:15 29 Oct 21
My experience with them allowed me to hire the right moving company. Finding them when searching for reputable moving companies was the right decision.

Katie Freeman
05:47 28 Oct 21
This company was recommended to me by a friend, and I was very happy with their moving services. The process of moving and costs was explained to me clearly.

Vanessa Smith
07:16 26 Oct 21
Great service! Thank you guys!

Iryna Dvoinos
17:50 22 Oct 21
Torex Moving delivered my furniture with care and punctuality. I recommend their services.

Gustavo Rodrigues
15:16 17 Oct 21
Good job, guys!You made our day!Thanks Torex Moving for making our life easier.Professional management makes the business work good. Fair price-quality range.You, guys, are hard workers.Thank you for moving our stuff.Snejana B. (Vaughan)

CaringForU
15:13 17 Oct 21
Thanks a lot to the movers! They were a good choice when I moved my belongings. They provided me with outstanding service. I appreciated their politeness as well as their respect.

Ella Villalobos
13:09 13 Oct 21
I enjoyed working with them. They excel at what they do. Their customer service is excellent. The prices were fair and the work quality was excellent. Best movers in the city.

Lee M. Spiller
13:01 08 Oct 21
The moving company we had hired was unable to dismantle our pool table. We called Torex Moving and Alecia sent a crew within 2 hours. They were so professional and skilled. I will definitely be using their services again. Thank you!

Cloud9Aroma With Stephanie
13:26 07 Oct 21
We chose the right moving company. It was a pleasant experience. In my dealings with them, I found them to be friendly and polite. It was a pleasure working with them.

Jan Buckland
11:48 23 Sep 21
I was blown away by its services and positive attitude. They may be the people I call again if I need a movers in the future.

Garland Dubé
11:44 16 Sep 21
The moving process was completed quickly and professionally. Even though the new apartment was not too far from where I was, I didn't have a car so I had to contact them.

B. Sackett
10:41 13 Sep 21
My movers recently helped me move into my newly built home. I was very pleased with the movers' efficiency and their prompt arrival.

I would like to thank everyone who helped me moving my apartment. As I had no car and there were a lot of boxes to carry, I called the company and they responded promptly and efficiently.

Best moving company in town. I am very happy with their service. They are really good and professional.

Jerrycarlton
12:08 08 Sep 21
Torex was amazing. Last minute move. They answered the phone after 9:30 pm and booked movers for a big tough move 2 days later!The movers worked 10.5 hrs and barely took a break.They were personable, respectful and thoughtful. Soo impressed!!! Thank-you!

Tamara Clarke
22:07 03 Sep 21
The staff are incredibly hard working, and when a hiccup happened they handled it swiftly and professionally.

Christine Nielsen
16:58 23 Aug 21
Good and reliable movers in Etobicoke. Helped me with relocation, and I also used their storage service. Well done!

Connor Dorwal
18:46 13 Aug 21
Moving can be something of an ordeal, but once Torex Toronto Moving Company showed up at my home promptly, it turned out that all the hard work was behind me. The moving team took such good care of everything. They did a great job moving my fine furniture, and it's my first move where everything got to my new home with absolutely no damage or missing pieces. They moved fast and worked hard, but kept up their good attitude from start to finish. If anyone I know needs anything moved, I will surely recommend this moving company.

Guillermo Amirault
01:58 10 Aug 21
Our original movers canceled on us, but we're so thankful there was a Torex moving team, and they save our day. They're extremely accommodating, and they're able to fit us into their schedule. They showed up right on time, worked nonstop, offered to help with everything, and were very careful with my home furniture. I Will use them in the future

Virgilio Deel
07:43 04 Aug 21
I highly recommend Toronto moving company. We recently moved (within the same city) from an apartment to a house. They wrapped our furniture in moving blankets and shrink wrap when appropriate and quickly moved everything into the truck. Once we arrived at our new home, they unloaded everything quickly, placing the furniture in the place I described. They were responsive and helpful from start to finish. I will call them in the future moving.

Chelle Clayton
03:36 17 Jul 21
Професіонали які знають свою справу.

Vasyl Onyshchuk
20:48 30 Jun 21
This guys gives me the best experience in my life, very friendly stuff, thank you so much for your professional service!

Roma Lucky
00:26 29 Jun 21
Professional and reliable Toronto moving company. Got a very attractive quote for my move, my stuff was moved without any problems, movers were responsible and polite. I spoke to the lady Alecia (manager), and the communication was amazing. She adjusted my booking time despite the fact that it was changed 5 hours before the initially booked time because of my fault. Thank you, guys!

Connor Dorwal
11:08 22 Jun 21
Amazing company! Great communication & hard working crew. They worked late to make sure we moved into our place. I would definitely recommend this company.

Britanie Moyen
11:54 03 Jun 21
Awesome Customer Service. The lady on the phone Alecia was Very Professional and Polite. Movers were also very friendly and they were working fast and efficient. They wrapped all the items to the protective shrink wrap and moving blankets and they moved everything with extra care.We are very happy about the move and pleased with their service . The price was also reasonable. They have discounts for almost any category of people, monthly specials and a Referral Program as well.We are so glad that we decided to go with Torex and strongly recommend them to everybody !

Tessa Bella
22:14 30 May 21
Choosing Torex Toronto Moving for my office move is my best decision I made. The movers were prompt, responsive, and communicated clearly. They took good care of my office furniture and other stuff and could accommodate small last-minute requests inherent to an office move. They were also kind, reassuring, and easy to deal with. I would use it again in the future if need be. Thank you.

Holli Watts
05:42 25 May 21
I hired many movers over the years, and I can honestly say that this company was by far the best experience I have ever had. They took an appropriate amount of time. All my stuff was in perfect condition. They moved everything I needed them to do for an affordable price. We will use them again for our next move and would recommend them to anyone in the area.

Cleotilde Koritko
08:31 17 May 21
We called Two men and a truck and were transferred to Torex Moving. The guys Tony Omar and Emil were very professional punctual and worked non stop. We moved our house contents into a storage as our new house closes 3 months later. Tony's estimate on time required was spot on. The guys were awesome they didn't even stop for coffee or lunch. It took 10 hours but they were fantastic. We could've reduced the time if we had more people in place which the coordinator should have recommended right from the start. However in terms of follow up she was good.Overall an excellent experience. Will definitely use them in three months and will refer to others.

Sudha Chetty
09:42 31 Mar 21
I just moved and both Tony and Daniel - the movers were exceptional. I was impressed with the entire experience from initial quote to the completion of my move. They arrived promptly, were efficient, friendly, professional and kept me informed along the way. They left only after I was completely satisfied and the entire move from one apartment to the next was done in 4 hours. I highly recommend Torex Moving and suggest you ask for Tony and Daniel. Ian Wilcox - Toronto

Ian Wilcox
15:42 06 Mar 21
Tony and Daniel were amazing movers. They arrived on time, were friendly, professional and kept me informed throughout my move. The whole move from one apartment to another was done and complete in 4 hours. They were careful with handling things and gladly disassembled and reassembled my bed for me. They did not leave till I was fully satisfied. I highly recommend Tony and Daniel. Ian Wilcox Toronto

Ian Wilcox
15:38 06 Mar 21
The movers did an excellent job on a snowy, icy day.Very punctual movers and a very efficient service.The guys made sure that all the items were wrapped and secured properly and they placed the furniture around our new house just the way we asked them to.All the movers also were very friendly and polite.We will definitely use them again in future for our next move and we strongly recommend them to anybody!

Jessie Sky
00:31 19 Feb 21
The movers did an excellent job on a snowy, icy day.Very punctual movers and a very efficient service.The guys made sure that all the items were wrapped and secured properly and they placed the furniture around our new house just the way we asked them to.All the movers also were very friendly and polite.We will definitely use them again in future for our next move and we strongly recommend them to anybody!

Jessie Sky
23:04 18 Feb 21
The move went fast and the job was done very efficiently. The crew was very polite and helpful with our move. We would use them again and we recommend them to anyone.

Britney Sparks
20:49 12 Jan 21
Very professional, punctual and hardworking team.The move went very smoothly and stress-free. Everything was handled with care and nothing got broken or damaged. They also placed all the furniture around my new apartment just the way I wanted and they asked me if I am happy about everything before they left.I will use them again for my next move.

Persi Hiraj
03:19 07 Jan 21
Torex has a great team. They were very helpful with my relocation from Mississauga to North York. Movers arrived on time, were very polite and flexible with additional requests that I had for some valuable items. The Torex Moving team helpedme disassemble and assemble my furniture. Great experience with this Toronto moving company!

Kate Florrick
18:22 06 Jan 21
We just bought our first home in the end of the last year. We were so excited about this move - it was a big day for us and we are so glad that we used this Company.The Service was Great ! The movers were very nice and friendly and they delivered all the fragile items to our new house without any damages. They also dissembled and reassembled our furniture for us for no extra cost ! We strongly recommend this company to everybody

Sunny Lawrence
10:20 03 Jan 21
The best moving company we ever used!The moving team was amazing! The crew worked very efficiently and they got the job done even quicker than it was estimated. Great job from the office staff to the movers.We will definitely use them again.

Alesya Belevica
22:57 01 Jan 21
The movers arrived on time and were very polite and respectful. They packed and handled the items carefully. Very professional .Our family is very happy right now in our new home and we will use them again in future

Emily White
17:37 31 Dec 20
I used Torex Toronto moving company for my relocation from Mississauga to North York. Everything went smoothly, movers were responsive, all my stuff was packed and delivered without any problems. Price was also very reasonable, and I got a discount. Strongly recommended!

Dmitriy Dm
16:09 24 Nov 20
LONG DISTANCE FLAT RATE MOVING
We have been moving in Toronto and the GTA for 13+ years but have also successfully moved customers across Canada. We can provide flat rate moving estimates for any move, local or long distance. We are even licensed to move internationally.
If you require storage, we can include this in your flat rate move estimate. We can bring our mobile trailer for storage on the site of your choice, or we can store it for you in our secure compound. Whether you need storage for a day, a month, or longer, we can help.
A flat rate moving estimate is advantageous for long-distance moves. This is because the possibility of an unforeseen issue appearing is compounded with a long-distance move. Every hour of a move is an opportunity for new problems to arise.
If you have booked us to be your flat rate movers, whatever situation comes up, we will handle it for you at no extra cost. Remember, it is our goal to make your move as stress-free as possible. Our experienced movers are trained to handle whatever issues may arise with your long-distance flat rate move.
HOW TO BOOK TOREX TO BE YOUR FLAT RATE MOVERS
To give you a comprehensive, flat-rate moving estimate, we need a detailed description of all items that need to be moved. Do you have any specialty items such as a pool table or piano? If you have stairs, how many flights? Is there an elevator available?
We will need to have the move location addresses. Please let us know if you require any extra services like mobile storage, cleaning, or packing/unpacking. Once we have all this information, we can provide you with a final flat rate price. This price won't change, giving you peace of mind before your big move.
Our friendly specialists are ready to help you with your next flat rate move. Call us or fill out the contact card to get your flat rate moving estimate. All estimates are proved free of charge.