PLANNING TO MOVE A PIANO ACROSS TORONTO & GTA?
Moving a piano can be a daunting and stressful task due to its size, weight, and delicate nature. At Torex, we understand the challenges and concerns that come with piano relocation. Our professional Toronto piano moving services are specifically designed to provide you with a stress-free, efficient, and safe solution for your piano move.
Expert Toronto Piano Movers to Address Your Pain Points
Our expert Toronto piano movers are trained to handle the unique challenges associated with moving pianos. We address your pain points by offering:
Specialized Knowledge and Experience: Our team has the necessary expertise and experience to disassemble, transport, and reassemble your piano safely and efficiently.
Proper Equipment and Protection: We use professional-grade equipment and protective materials to secure and transport your piano, preventing damage during the move.
Fully Licensed and Insured: Torex Moving Company is a fully licensed and insured moving company, giving you peace of mind throughout the relocation process.
Customized Piano Moving Plan: We assess your piano's size, type, and location to create a tailored moving plan that ensures a smooth and successful relocation.
Competitive Pricing: Our transparent, affordable pricing for piano moving services ensures you get top-quality service without breaking the bank.
Only piano movers know how to move a piano in order not to damage the instrument. Torex offers the best Toronto piano moving services for all types of pianos, including:
If you need a reliable Toronto piano moving company to handle your favorite instrument, it's vital to find a team of experts.
At Torex Toronto moving company, we focus on delicacy, efficiency, reliability, and safety. As Toronto piano movers with experience, we know how to handle all types of musical instruments regardless of their size and weight. We understand the importance of being extremely careful when moving a piano. Our piano movers make sure the piano reaches its destination in top shape whether you are moving to the nearby street or to another city. We provide piano moving services in Toronto, Mississauga, Brampton, Markham and other areas of the entire GTA.
Get a Quote for Piano Moving
WHEN IT COMES TO PIANOS, WE OFFER:
Extensive Experience and Care
We have been moving pianos for over 10 years. Each new piano mover goes through extensive training to become a valuable part of our team.
With special knowledge and experience under its belt, our movers handle your piano carefully and responsibly.
High-quality Piano Moving Equipment and Packing Materials
While moving pianos without special equipment and packing materials is possible, the results of such a move can be less than satisfactory. Without special blankets and shrink wrap, safety can't be guaranteed.
That's why Torex invests in high-quality piano moving equipment and packing materials, including
Special safety straps to ensure the piano's stability while in the truck.
Piano dollies to carry all types of pianos regardless of their weight.
Runners to protect floors from damage.
Protective materials to protect walls and stair railings from scratches.
When packed properly, the piano can go through any type of move and stay safe regardless of the weather.
It doesn't matter whether you plan long distance piano moving or need to carry it over to another apartment. If you don't handle the piano properly, tuning it after the move can be complicated. Meanwhile, improper packing could lead to cracks and scratches. Our Toronto piano movers understand that even a small bump can affect the piano. That's why we use only the highest quality equipment and materials.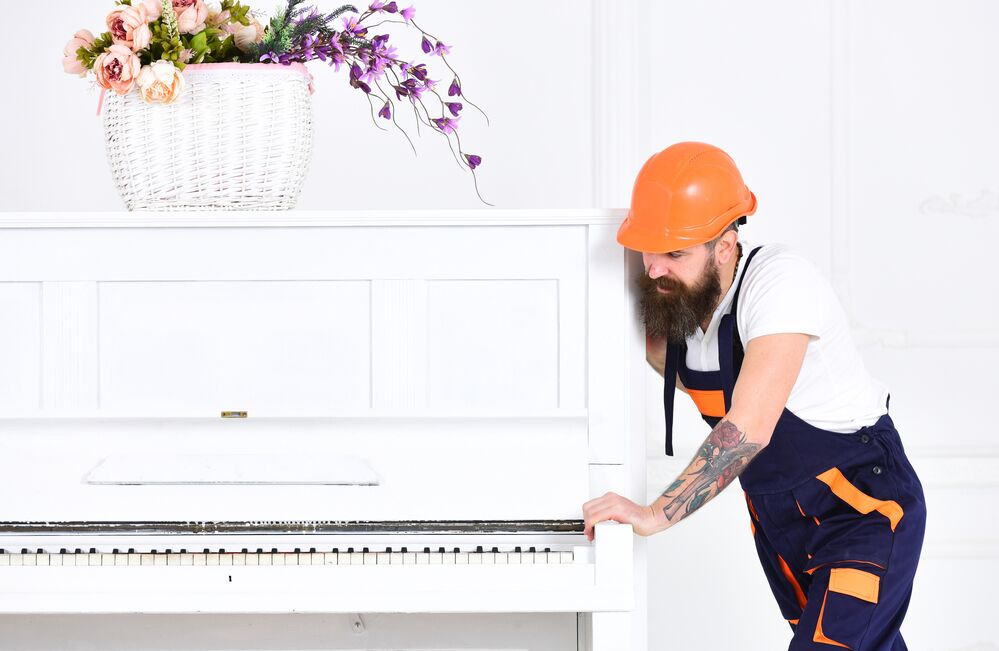 Reliability and Safety
We understand that a move can be stressful, and don't want to add any worries to the process. That's why our Toronto piano movers can arrange a highly delicate and reliable piano move to any part of Canada or even the world. Even if you need to move from Ontario to France, we can handle the process seamlessly.
No matter how far you plan to relocate your piano, with Torex piano movers, you can be sure the move goes smoothly. Whether you are planning to move an entire home or simply relocate the piano, we can ensure reliability every step of the way.
Insurance
Since we know how important your piano is to you and your family, we want to do everything possible to ensure its safety and integrity. However, unexpected things happen. That's when insurance kicks in.
Torex is a registered and licensed piano moving company in Toronto. Standard business insurance is included in the price of the move. If you want to purchase additional piano insurance, please contact us for details.
Formal Relationship
Since we are an officially registered and licensed company, we know the importance of the legal part of the move. Before we move your piano, you sign an official contract that contains all terms of our services, responsibilities, and costs of the move.
Affordability
Moving a piano may seem like a costly task. It can be especially daunting when you are already planning a large move. Thankfully, we can arrange piano delivery from one doorstep to another without breaking your budget.
We take a unique approach to each client, keep the budget in mind, and try to give every customer a highly reasonable quote. Over the past 10 years, we've worked with over 2,000 clients. Our team managed to settle the right price for each one of them. We make it our business to make your move affordable.
If you are unhappy with our price quote, we are always open to negotiations. While cheap piano movers don't exist, reasonable prices are always available.
Local Piano Moving Services
Torex is a large moving company, which specializes in moving different types of pianos. Even though our head office is in Toronto, we service GTA and surrounding areas.
Since we are local Toronto piano movers, our prices don't depend on where you are moving from, only where you are moving to.
Moving pianos isn't just our specialty. It's our hobby.
Getting a Piano Moving Quote is simple. It's fast & easy!
Customers Are Talking
The team from Torex was absolutely fantastic. They were efficient, professional, and handled my items with great care. I highly recommend them for anyone needing a reliable moving service.

They provided exceptional service when I relocated my apartment. The team was professional, efficient, and took great care in handling my belongings. I can't thank them enough for making the moving process so smooth and stress-free.

Sammy Henderson
1695383520
The team at Torex was fantastic. They were punctual, efficient, and incredibly careful with all of my belongings. Their customer service was top-notch and they really made my move a lot less stressful. I would highly recommend Torex Moving!

I had a fantastic experience with Torex. The moving crew was professional and handled my precious items with the utmost care. The entire process, from getting a quote to the actual move, was straightforward and hassle-free.

What a fantastic experience with Torex!The team was respectful, thorough, and took great care in moving my items. Their professionalism and dedication to customer satisfaction were evident throughout the process.

I had a great experience with this moving company. The team was punctual, respectful, and took great care of my items. They made my moving day a breeze.

HOW TO CHOOSE PIANO MOVERS IN TORONTO
There are several things to consider when planning piano moving in Toronto because even the smallest mistake made by the mover can damage the instrument.
Company Experience
The longer the company is dealing with piano moving in Toronto, the better it can handle the instrument. Check out the online reviews and talk to your friends and neighbors. The piano moving experts are rather rare so you won't be stuck making a tough choice.
Professional Piano Moving Equipment
In order to make piano moving smooth, the piano movers must have professional equipment. Lifting a piano into a van or carrying it down the stairs can be complicated without the right tools. Ask if the company you are about to hire has the required equipment to carry a piano. Expert piano movers in Toronto must have:
Blankets
Safety straps
Shrink wrap
Many different types of dollies
Runners
If the company doesn't list the above as the equipment, the move may not be sufficiently delicate.
Large Teams
One person can't do a proper job of moving a large piano. The size of the piano moving team depends on the type of the piano as well as the house layout (stairs/no stairs). To figure out how many movers you need to move your piano, please contact us for details.
WHY YOU NEED PROFESSIONAL ASSISTANCE TO MOVE YOUR PIANO SAFELY
Arranging a DIY piano move may seem like a money-saver. In reality, it could turn into a serious disaster. Before you say no to piano moving services, consider the following issues.
Packing – sticking a piano into a regular blanket and securing it with tape doesn't always work. Without professional packing materials and equipment, the piano could end up with dents and lose its value considerably.
Apartment size – if you are moving to or from a small apartment, you need knowledge and experience maneuvering a large piano in order not to hit a wall or a window. In a large home, each flight of stairs poses a danger to a delicate musical instrument. When it comes to moving a piano, navigation is a serious issue.
Equipment – unless you plan to rent such equipment as a piano skid, you may have serious problems moving up and down each flight of stairs or getting the instrument into a truck. Besides being stressful for the movers who need to lift heavy pianos, the lack of proper tools could lead to serious damage.
Insurance – professional piano movers include insurance in the price of the move. They can also sell you additional insurance to make sure you don't lose any money during the move. If you want to move your piano by yourself, you need to worry about getting insurance on your own. In case a problem occurs, you'll have to spend a considerable amount of time on expertise, evaluation, and reimbursements.
Weight – a piano (whether grand or upright) can be extremely heavy. Its weight varies from 90 to 544 kg. Even if you have a piano dolly, lifting the instrument requires at least two people. Navigation through rooms and stairs can require two more. If you don't have experience lifting heavy objects, such a move could result in health issues.
Working with professional Toronto piano movers isn't just convenient. It ensures that your piano ends up at its destination in one piece. Moving pianos is complicated and tough. One wrong move could affect the value of the instrument and lead to costly repairs, or worse, replacement.
Unlike furniture, a piano requires extreme care and extensive moving experience.
How much does it cost to move a piano in Toronto?
The cost of moving pianos can depend on several things. To get an accurate quote, piano movers will ask you for the following information.
Piano type – a grand, electronic, upright piano, etc.
Piano size and weight – you can check this information online or just share the model*
Location – where are you moving to and where you are moving from.
Layout – do piano movers have to go up the stairs or down the stairs?
When you speak to our representatives, they will ask all the necessary questions to make sure you get the right idea about the price. To get a final quote, please contact us at any convenient time.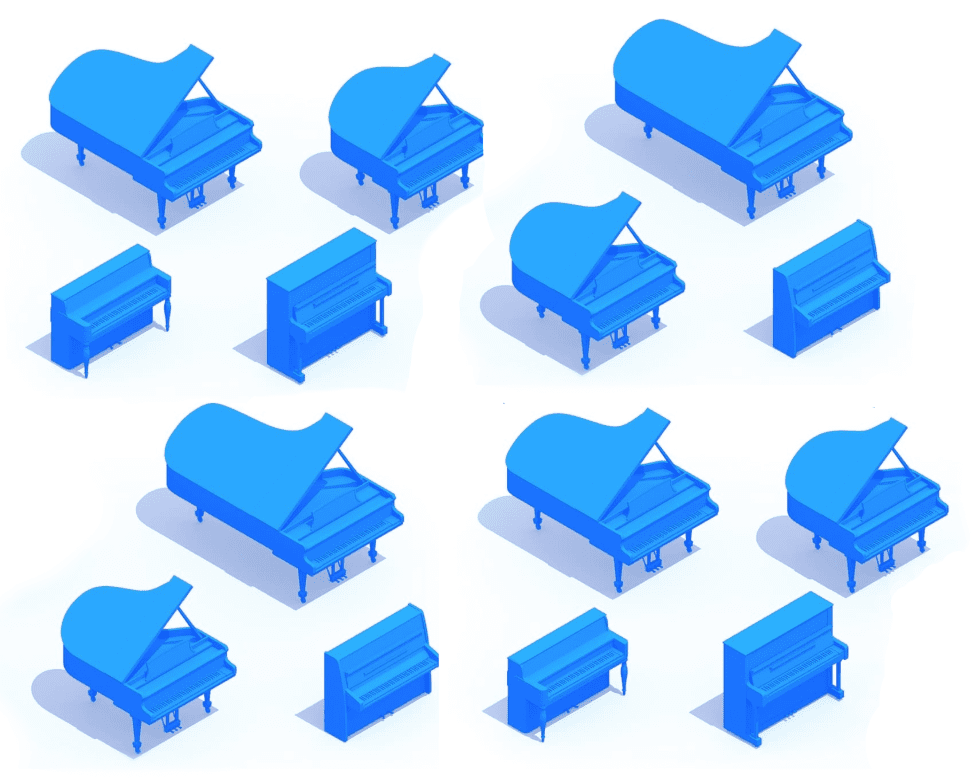 *Piano Types and Weight
Here is a reference for piano types and weight:
Spinet piano – 91 – 181 kg
Console piano- 159 – 204 kg
Studio piano – 181 – 227 kg
Upright piano – 227 – 454 kg
Petite Baby Grand – 181 – 227 kg
Baby Grand Piano – 227 – 272 kg
Medium Grand Piano – 272 kg
Living Room Grand Piano – 318 kg
Professional grand piano – 318 kg
Recital grand piano – 340 kg
Semi-Concert Grand Piano – 408 kg
Concert Grand Piano – 408 – 544 kg
WHY CHOOSE TOREX TORONTO PIANO MOVERS?
At Torex moving, we offer a full range of piano moving services in GTA. We have:
Large team of piano movers in Toronto region
Full insurance coverage
Over 10 years of experience and over 2,000 happy clients
Top-notch professional equipment.
Piano moving costs are affordable with us.
We cover not only Toronto but the entire GTA, including Brampton, North York, Mississauga, Markham, Vaughan, Scarborough and Etobicoke
WHAT YOU GET WITH TOREX PIANO MOVERS IN TORONTO:
Delicate handling of the instrument
Quick customer service response
We pride ourselves on a high rate of returning customers. It means we are doing the right thing. If you are looking for a reputable piano moving company in Toronto, give us a call. You can trust us with your piano!