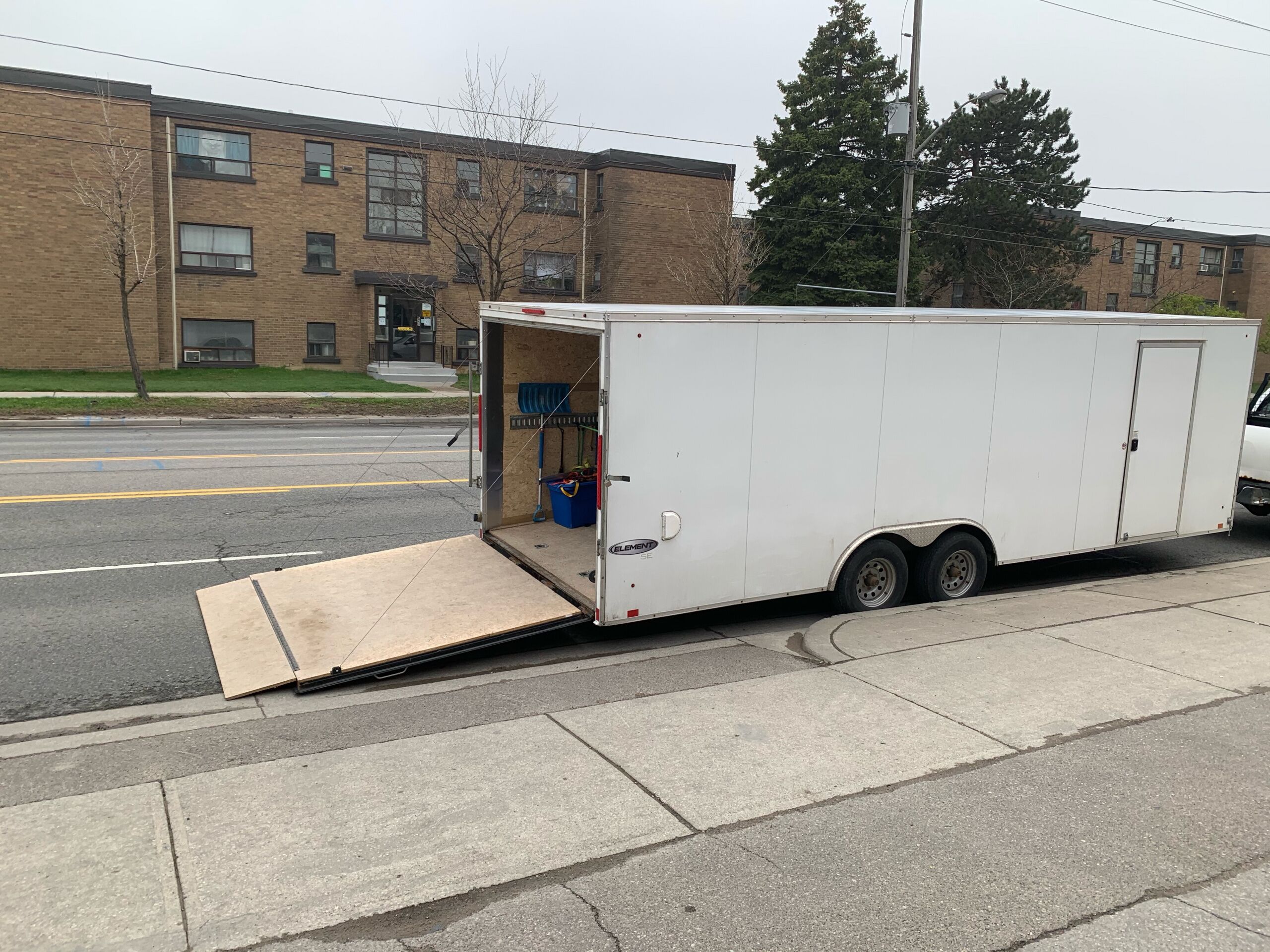 Brampton used to be considered a 'commuter city,' meaning people would live in Brampton for the financial benefits but would commute into Toronto for work. This is no longer the case. Many large corporations have set-up-shop in Brampton, but the cost of living has remained lower than in Toronto. These factors have made life in Brampton, Ontario, very appealing.
Once known as the Flower Town of Canada, Brampton is filled with parks and hiking areas highlighting the abundance of beauty in this city. Residents enjoy the diversity, which flows over into a rich cultural outpouring of theatre, art, and amazing food.
While residents appreciate the transit provisions for the area, driving in Brampton is congested. North America's busiest roadway, Highway 401, flows right through Brampton. This can make regular driving difficult but often makes moving a nightmare. Navigating an oversized truck through these high traffic areas is not for the faint of heart.
Moving is often a pricey undertaking. Some may ration that they will save money on a DIY move as opposed to hiring professional Movers in Brampton, but it is best to first work out the pros and cons of this choice.
First, the cons:
Cost of lost and broken items (may not be covered by insurance)
Property damage to the homes during the move
Stolen items if the truck is left unattended
Cost of truck rental (watch out for that extra per km hidden fee)
Possible personal injuries
Loss of time and earnings
Rental of moving equipment (dollies, jacks, blankets)
Total control of the move
Cheaper overall cost if the move goes smoothly
The move can be split up over days/weeks
Pack the way you like, or don't pack if you want to move items individually
Get a Quote for Brampton Moving Company
HIRING PROFESSIONAL MOVERS IN BRAMPTON
While there can be added overall cost to hiring professional Brampton movers, you may be surprised to discover the difference might not be as much as you think. Pros of hiring professional movers:
Your possessions are packed by trained staff using the best techniques resulting in fewer (or no) damaged or broken items.
Stairwells and floors are protected, furniture is dissembled/reassembled if necessary.
Movers have security measures to protect belongings.
Dollies, jacks, and moving blankets are all provided.
Reduced stress and shorter, efficient moves
There are also cons with hiring a moving company, such as hidden costs, disorganized or rude movers, to name a few. Some Brampton moving companies may not be familiar with town, which can also create issues. If you decide to hire a professional moving company, you will want to research before making your choice.
How long have they been in business? Is the company familiar with moving professionally in Brampton? What is their reputation? Check out local reviews to see what people are saying about their services. Get a couple of quotes but remember that the cheapest may not necessarily be the best or even the cheapest in the long run. With this many concerns, you may ask, is there a reputable moving company in Brampton?
ADVANTAGES OF HIRING TOREX BRAMPTON MOVERS
Torex has been moving customers in Brampton for over 13 years. We have a solid reputation built on customer satisfaction. Our goal has always been to help make your move as stress-free as possible, as our client testimonials reflect our dedication.
Not all moving companies in Brampton are the same. Torex has many built-in services that we offer at no additional charge. Please check out the list of some of these advantages:
trucks have real-time GPS tracking
maintained fleet of trucks and trailers
furniture disassembly/reassembly
dollies, jacks, moving blankets provided
flat rate and hourly quotes provided at no charge
Many of Ontario's major highways run through Brampton, causing traffic congestion. Traffic congestion can cause stress when using hourly movers because the move is billed for total hours, even if some of those hours are the truck sitting in traffic. To help clients that prefer to know the total cost of the move ahead of time, Torex can provide a flat rate for your move. If there are traffic delays or severe weather conditions, you can relax knowing you have hired professionals trained in these situations and that your total moving bill will not be affected by these unexpected issues.
Torex knows it can cause anxiety to have all of your possessions loaded into a truck without you. To alleviate this, we give every client a GPS link so you can watch your precious items move in real-time towards your new home. You will know exactly where your truck is located and can estimate its time of arrival. We are the only moving company in Brampton and the whole GTA to offer you this service.
Getting a Moving Quote is simple. It's fast & easy!
ADDITIONAL SERVICES OFFERED BY TOREX BRAMPTON MOVERS
We have offered moving services in Brampton and the greater Toronto area for 13+ years. This has given us the opportunity to find out what services you need. We listened to your requests and can offer you these additional services. Please call our office to get a quote:
Mobile Storage Trailers
Portable trailers can be delivered for loading at your location and can be stored on location or in our safe storage facility. We can offer assistance in packing the trailer, or you can pack yourself if this is your preference. We don't require a minimum usage for portable trailers; storage is available short or long term. If you enter a year-long contract, we will give you a month of free storage.
Cleaning Services
After a busy move, the last thing you will feel like is going back to your old home to clean, so let our friendly staff clean for you. A professional cleaning may assist you in the return of your damage deposit. Also, your new home may look clean, but there is peace of mind in knowing it was freshly sanitized before you move in.
Plastic Bin Rental
To reduce the amount of waste, consider renting our reusable plastic bins. This will reduce or eliminate the need for cardboard boxes. These plastic bins are advantageous for packing fragile or delicate items as they offer greater protection.
Packing Supplies
Who can better source wrapping and packing materials than a moving company? We can provide you with the professional-grade moving materials necessary and can estimate the amount needed.
Garbage Removal
Moving is a great opportunity to simplify. At Torex, we can remove broken furniture, construction garbage, leaky hot tubs, old gym equipment, or outdated electronics. If items are broken or unusable, they will be taken to the landfill, but reusable items in good condition can be donated. Please note, we can't move dangerous goods such as flammable materials or explosives.
Specialty Items
Not many people are trained in how to correctly move pianos, pool tables, and fragile or valuable items. We provide specialists to properly disassemble, wrap, move, and reassemble your specialty items at your new home. We provide standard insurance but can also obtain additional insurance upon request.
Moving Long Distance
Whether your move is within Brampton, in the GTA, or across the country, we can help. Our movers and trucks are licensed to make inter-provincial and international moves. GPS tracking is advantageous for long-distance moves; you can watch your items as they move toward their destination, giving you peace of mind. Only Torex offers real-time GPS tracking in the greater Toronto area.
Commercial Moves
These moves require extensive planning ahead of the moving day. Our friendly staff can help to create this plan with you. Office furniture and other hard-to-move items such as cubicles will be disassembled and reassembled. Our staff received training in the correct techniques for disconnecting, moving, and reconnecting electronic equipment. We want to help you get you back in business as quickly as possible while still on budget.
Single Item Moves
We are about quality, not quantity. If you need help moving furniture around the house or getting an item in or out of storage, we can offer this service. We can provide a single-item quote for you at no cost. With Torex, single item moves can be local or long-distance.
BOOKING YOUR BRAMPTON MOVE
We are happy to help you plan your move. To provide a free quote, we will need to have a description of the items that need to be moved. We will need the addresses of your move and if your move will be door to door or door to a storage unit.
If you have any specialty items such as a piano or a pool table, let us know as we have specialized staff and equipment for these items. We will ensure your specialty items are packed and transported safely.
Call our friendly staff or fill out the contact form on the web site to get started. If you are on a budget and are concerned with the cost, please let our staff know about it. We have multiple options and weekly and monthly promotions to fit most budgets.