Perhaps you are embarking on a large-scale renovation and need to safely store household possessions. Or there is a window between when you move out of your old place into your new home. You need to store your items and may be asking, what are your options?
Using storage in Toronto can be a hassle. You have to pack up your items into a truck, unpack them into the storage unit and start this entire process again when you are ready to access your items. Whether it is short or long-term, you will want to consider whether using mobile storage units may be the solution for your storage requirements. 
How Mobile Storage Units Can Help
Using mobile storage units can save you a lot of time and trouble. At Torex Mobile Storage, we will come to drop off the mobile storage unit, load it up for you (unless you prefer to do it yourself), and pick it up to store in a safe location until you need it again. You can even store the mobile storage unit on-site if that is your preference.
Taking advantage of mobile units is easy. All you have to do is give us a call. Our friendly specialists are always ready to help you choose the best unit for your needs and arrange a pickup. Our portable storage rental prices are competitive and often work out to be cheaper than traditional storage facilities. You can find a suitable solution for any budget.
Advantages of Using Torex Toronto Mobile Storage
Safe, reliable storage in Toronto can be difficult and expensive to obtain. Torex Mobile Storage has an excellent reputation in Toronto and the GTA because we treat our clients with respect. Some of the most important advantages of using Torex are:
Convenience – a portable storage unit is delivered straight to the location of your choosing. You can do all the packing at your own pace or have our experienced professionals pack for you. Either way, we can assist you in getting the right-sized trailer for your storage needs.
Easy transportation – our mobile storage uses trailers instead of containers. So, when the portable unit arrives at your chosen destination, you can pack directly into the trailer your items will be stored in. You don't need a separate transportation method for your stored items.
Excellent security – our portable storage units provide excellent security. Our trailers come with a lock and key, or you can use your own padlock. Once moved, the trailers are locked in a secured and monitored storage area.
Lower costs – when you use portable units, you only pay the costs of the storage. You don't need to rent a truck and worry about any hidden fees. This can reduce your storage expenses substantially. We don't have a minimum storage requirement; whether you need storage for a day or a year, we can accommodate your unique needs. As a bonus, if you do rent for at least a year, you receive one month of storage free!
Flexibility – when it comes to mobile storage units, you have numerous options. You can either leave the unit on-site, or we can transfer it to our storage facility. This is extremely useful during a move or in case your home is damaged and needs repair.
Experience – our fully trained, insured staff will make you their #1 priority. We have been moving people in Toronto and the GTA for 13+ years, and our reputation is outstanding. Our fleet of trucks and mobile storage trailers are ready for whatever you need, whether it is a move down the street or across the country. We are even licensed to move internationally.
Is Mobile Storage Not Enough? We Also Offer These Services:
At Torex Toronto Moving Company, we are problem solvers. Explain your concerns to our professionally trained, friendly staff, and let us be part of the solution. Some of the other helpful services we offer:
   

Cleaning

   

Appliance Removal

   

Packing and Unpacking Services

   

Pool Table Moving (includes disassembly and reassembly)

   

Commercial Moves (including office, warehouse, or retail)
How Do I Book A  Mobile Storage Trailer?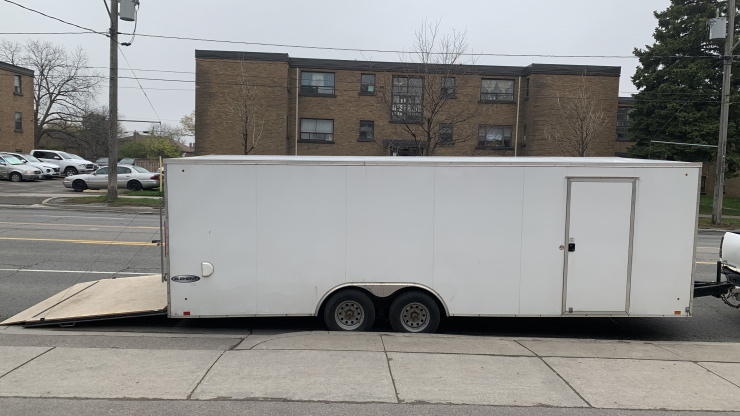 This part is easy. Give us a call or fill in the contact card. One of our specialists will contact you quickly. Let our experience give you peace of mind.
Some things to think about before booking a mobile storage unit:
Size – our staff can help you decide on the trailer size needed.
Duration – will you need it for a day, a month, a year. We don't have a minimum requirement but will provide whatever you need.
Location – do you want us to store your trailer in our safe, secure compound, or would you prefer storage on-site?
If you don't have all the answers to these questions, don't worry. Call our friendly staff, and we can help you navigate through the process. Our goal is to make your mobile storage experience as stress-free as possible.
Customers Are Talking
I used a moving service for the first time and I'm happy I chose Torex Moving. They were really nice to me when I called with questions and helped me a lot during the whole process. On moving day, they were on time and finished quickly, which made it cheaper. They were careful with my things and did a great job, even though it was a difficult move. I highly recommend Torex Moving to anyone who needs help moving.

Pool table 6 by 12 feet. Everything is done to perfection - a very professional job. Punctuality: The team arrived even a little earlier than the agreed time. Professionalism: the guys had all the necessary tools and knew what they were doing. Our table is not in perfect condition, after dismantling the guys themselves bought the necessary things and repaired it to set the level perfectly. Price: more than matched. We were willing to pay more for this kind of work. Customer service: pleasantly surprised by the professionalism and courtesy of the curator. Full support from the order to the end of the project. Conclusion: the guys are worth every cent spent, highly recommend.

This guys gives me the best experience, everything was done professionally, very friendly stuff, thank you so much for your professional service!

On Wednesday (Jan. 25th) we had a big move from Vaughan to Mississauga. Overall my experience with this company was very good. Due to weather conditions, the crew was just a bit late but it didn't affect the quality of work at all! I was really impressed how strong the young boys are. We needed two big size trucks to move, it took pretty much all day because aside from moving we asked them to wrap and pack our stuff. To avoid damage the company used a bunch of different material and the guys were really careful while loading/unloading. We felt really bad since they had to work in such bad weather so we covered their lunch break and got them warm drinks. Super respectful, the work that they've done is worth every cent paid! Definitely recommend.

Anastasiia Kovalova
1674824933
Great guys. They moved my piano. A lot of stairs. Quick and safe. I didn't realize it was possible. 👍🏻👍🏻👍🏻

The job was done professionally and as expected. The team arrived on time, were respectful and efficient. Great experience, recommend using Torex.