Moving can be one of the most stressful times in a person's life. Sometimes it can be tied with a loss. Loss of employment, a divorce, or even loss of a loved one can precipitate a move.
Moving can also be a positive thing. It initiates change. A new neighborhood or perhaps a change from the city to a quieter suburb. Your family may see this as stressful or exciting.
The actual business of packing all of your belongings safely is a challenge of its own. You want to be sure you have everything packed safely and securely, so it makes it to your final destination. Save yourself the heartbreak of discovering your precious belongings have been broken during the move.
This article will give you all the packing techniques necessary to ensure the safety of your fragile items, so it's not left up to chance. This information is applicable if you use a moving company or if you decide to do it on your own.
Boxes
Smaller moving boxes are better than large ones for fragile items. Use sturdy boxes only, save your flimsy boxes for pillows or other non-breakable items. Before putting fragile items in a box, make sure the bottom of the box is properly sealed with packing tape.
One packing tip is to always place the heaviest items in the bottom of the moving box. Another is to check the weight of each box. Better to divide heavy items such as jars into two smaller boxes.
Packing Material
Packing tape will be needed for securing the top and bottom of the moving boxes or even securing your fragile items inside the box. Bubble wrap, foam sheets, or clean paper towel will all protect your breakables. Newsprint or packing paper is a popular choice, but best to get the unprinted newspaper or be prepared to have to clean your items if you use printed newspaper.
Be generous when purchasing packing materials. You will likely use more than you think you will need. Buying lots initially saves you from making extra trips to the hardware store when you are in the final harried days of packing.
We are all endeavoring to be ecologically conscious, and this can be hard to reconcile when moving. Consider saving your packing materials to reuse for your next move or gift them to a friend who also has a move on the horizon.
Dishware
How to pack dishes for moving is to have the least extra space as possible. Try to estimate a box that is similar in size to the items you are packing. Line the bottom and sides of the box with paper, bubble wrap, or even better, a towel. In addition, there are special boxes called 'dish pack' boxes available from your moving company.
Place one piece of foam paper between your plates before you layer the next item. For especially fragile, such as porcelain items, completely wrap each piece and seal it with packing tape before placing it in the box. Fill any empty space left in the box with crumpled paper or clean soft items such as tea towels or socks.
Mark the box with the contents, such as cups or bowls, and which room it should belong in your new home. Be sure to include that the contents are fragile. It is best to mark this on the sides of the boxes as once they are piled into the truck, the top will no longer be visible.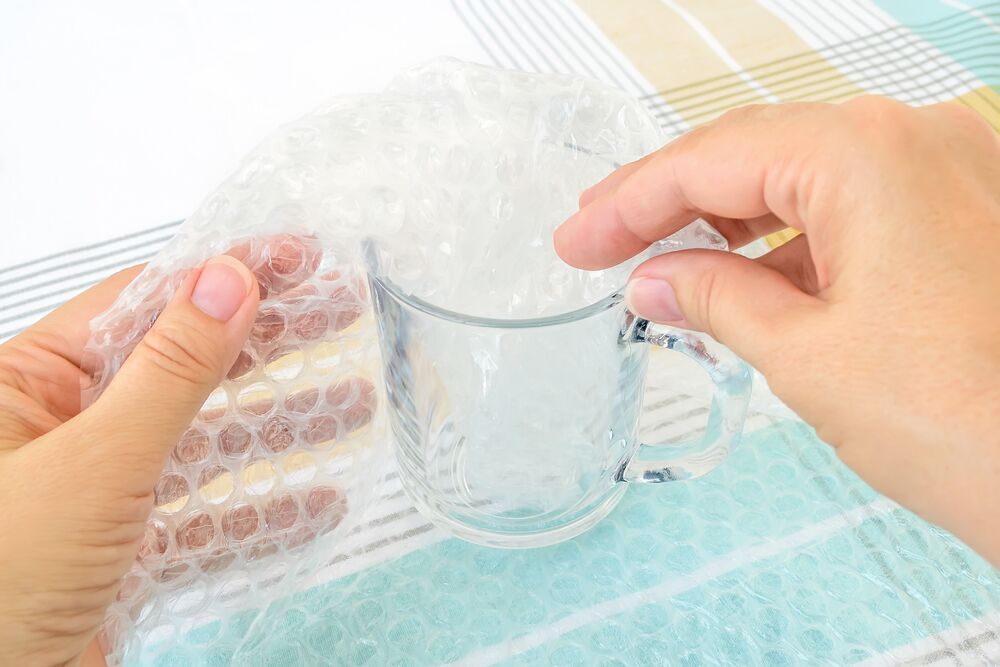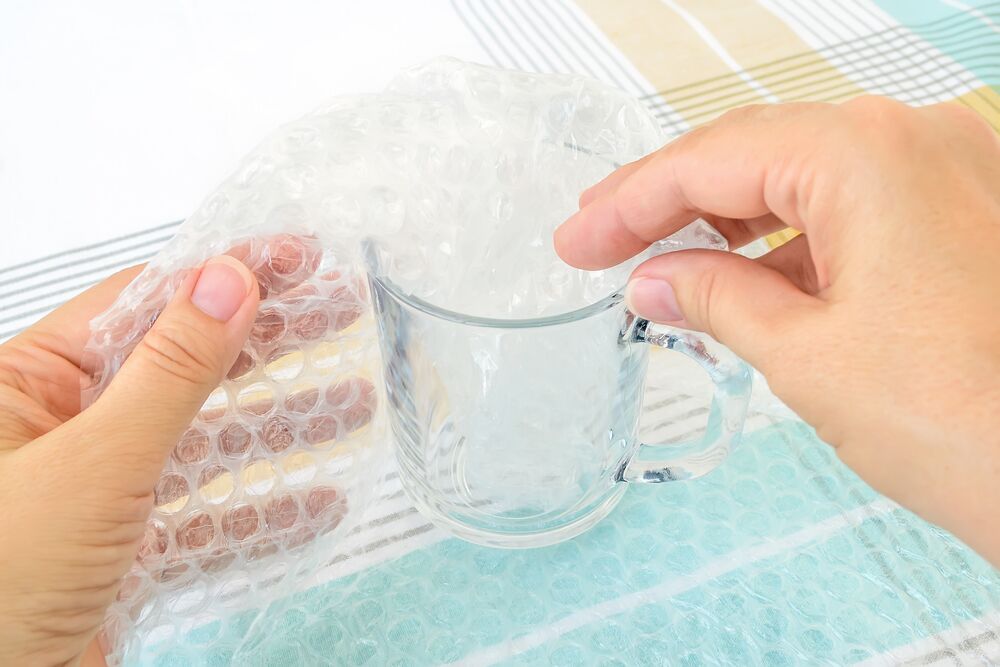 Glassware
There are special boxes available for wine glasses, stemware, or china with inserts already inside the box. If you don't have access to these, you can try to obtain used wine boxes from your movers, local liquor store, or grocery store. You can even fashion these inserts yourself with cardboard harvested from perhaps flimsy or broken boxes.
Follow the steps of lining the bottom of the box with something soft and then filling all and any empty spaces around the glassware. Empty spaces can allow movement during transport, which can cause breakage.
Artwork, Frames, and Mirrors
Find a box you estimate is a little larger than the frame you need to pack. If this isn't possible, make your own by taking apart other cardboard boxes. If your item includes glass, use paper tape to mark a large X on the entire surface. This is to reduce the movement of the glass parts and possibly stop it from shattering.
Wrap the front of the artwork with the bubble side and then wrap the entire thing with packing paper before securing it with tape. You can layer several individually wrapped small frames together in a box. You can purchase specialty cardboard corners for frames or make your own out of leftover pieces of cardboard.
These packing tips also apply to TVs or other digital screens. With an electronic device, be sure to bundle the padding or bubble wrap well to ensure the object is secure. Bag any extra items such as remotes or the tv base and attach them to the device.
Oddly Shaped Items
There are always a few precious, fragile, but uniquely shaped items that need special care for moving. Chose a cardboard box big enough for the shape of the item and follow the best packing technique of lining the bottom of the box.
Be sure that the empty space around the item is filled with soft protective fill. This could be bubble wrap, crumpled paper, or a clean sheet. Anything that will gently stop movement during transit will work.
With uniquely shaped items such as teapots, ensure any gaps such as around the handles have been securely wrapped.
The way to pack more than one item in the box is to layer items carefully. Be sure that the heaviest items are placed on the bottom of the box. Label the side of the box and ensure the top, bottom, and sides are secured with tape for safe shipping.
Piano
Only musicians can appreciate the damage that can be inflicted by not carefully moving musical instruments. This can be minimized by ensuring your instrument has the best protection before the move.
Nothing beats the sound of a good acoustic piano. Digital pianos have gained popularity primarily because of the ease of moving the instrument itself. While there may be an argument in the comparison of sound quality, the acoustic piano stands alone in the romance factor.
If you have an acoustic piano that you love, don't get rid of it just because it is difficult to move. Use a professional moving company that specializes in piano moving. While not recommended, if you want to move the piano yourself, you will need to gather the packing materials usually supplied by the packers.
You will need plenty of moving blankets, large towels or sheets to protect the piano, and plenty of tape to secure these covers. You will need a large capacity dolly or skid board and any necessary straps and tools to secure the piano. You may need tools to remove the piano legs.
To Package Everything Up
Following these packing tips will ensure your kitchen items and other precious belongings make it safely to your new home. Keep some tools like scissors or box cutters handy for unpacking. Consider putting some boxes in storage to make the transition less overwhelming.
Make sure to clearly mark the box with your coffee maker and mugs as unpacking will be more appealing after your morning cup of coffee.