"I think there is a profound and enduring beauty, in simplicity, in clarity, in efficiency. True simplicity is derived from so much more than just the absence of clutter and ornamentation. It's about bringing order to complexity". 
Many years ago, at the release of iOS 7: a mobile operating system, was the first time we heard those words by Jony Ive, a then Senior Vice President of design for Apple. These principles of simplicity can be applied to many fields in our lives. One of them is when you must pack, take your things, and move. 
Moving boxes, packing, bubble wrap, plastic wrap, fragile items, packing tape. Just thinking about it can be a bit overwhelming. As movers, we never take for granted how we can bring order to complexity. We'll try to make this as easy as possible for you in the following article. It's one thing to make a move and another to make a smart move! Here are our moving and packing tips!
Tips for moving to a new home
Life changes can be challenging and sudden. When new circumstances arrive, it may be hard to adapt. No matter if the newer home is even bigger. As with every endeavor in our lives, it never hurts to get some advice. If advice is too big of a word for you, then it's just good to get tips. 
We want you to make your moving process to your new place easier to digest. It's never easy to transition from a home to another. Moving to another home or office moving implies more than just packing cardboard boxes, changing a storage space, choosing what things to keep or not. 
A move is a big deal, but the things you have don't always come first. That's why we have you covered with some moving tips to make the transition to your new home life a bit simpler and so that you may focus on getting back on track with work or being with your family. 
Allow the movers to help with the move, to pack, to give you tips. Take the help so that you can focus on what comes first.
Keep it simple! Purge and declutter
First and foremost, and before we get to the needy greedy, let us go out of our way to offer you some free advice: Simplify! Yes, a simple life is often a source of good health and improved productivity. 
Moving to a new place gives you a singular opportunity: to get rid of the items you don't need! It's the perfect chance to purge and declutter. Have you not used a suit, a dress, or underwear for a couple of months or even years? It might be time to reconsider if it's just better to sell or gift them to others than to pack them in a box and store them in a new house where they'll never be used again. 
Depending on how many things you have, you may have a box or boxes ready and labeled for this purpose alone. You could donate or even sell on apps like OfferUp!
Move it or lose it!
If you're moving to another office, first think of questions like; Do you need that electronic stapler? What about that shredder? Will you use those 30 pens in the drawer that you haven't used in the last five years? 
Getting rid of the unnecessary will make it much easier to adapt to a new workspace. It's an opportunity to reinvent your space and your workflow. Simplicity, clarity, and efficiency are always cool, no matter what age period you live in. Allow for your new office to reflect those principles by ridding yourself of the extras.
Essentials boxes
First off, make an essentials box. Imagine you're going on a getaway for two weeks, which is what packing may feel like. Start with items you frequently use, like your cell phone, laptop, toilet paper, change of clothes, etc., and have all those items set apart from the rest. Having your essentials will allow you to go about your days with what you need without the fear of losing the things you need on a day to day basis. 
These boxes could also be made for a loved one or even your pets. Maybe your children or pets have a toy they can't live without; this box could also contain your pet's food supply for two weeks. The elderly may need to have their medicine easily accessible. Make sure you consult your loved ones about this to ensure that they will have all they need for the moving days.
Having two weeks' worth of what you'll use will save you from heartache and frustration on the moving days ahead. Make sure you have these boxes ready before you start packing anything else. This may also be an excellent time to make up a moving checklist for what's to come. Even if you use a moving company's help, you have to plan ahead of time.
Get moving supplies
Get more packing supplies than what you think you might need. Most people often say that they always get less moving boxes than the ones they use. Getting more can save you from more trips to the store than necessary. Some retail stores like Walmart and Costco may offer them for free if you ask. 
Don't forget your bubble wrap and packing paper for dishes. Painters paper may be cheaper than packing paper but choose at your own risk. Packing tape is also a must. Depending on how much you'll pack you might also want to include some colored tapes, sharpies, pens, and rubber bands to organize.
One room at a time: Lay it out!
Pack one room at a time. This may sound simple and even incredibly obvious, but it's easier said than done. You may be packing a room but then start thinking about stuff on another one. Pretty soon, you'll have nine open packing boxes full of so many items that you'll lose track of things and get confused. 
You also don't want to mix stuff from different rooms into different boxes. While you're putting things in a box, make sure to put bigger items in bigger boxes and heavy items in smaller boxes. This ensures that no boxes are too heavy and that you don't have too many moving articles on each one of them.
It's often easier to pick what you'll pack once you lay all your things on the floor. Obviously, you can't lay everything on the floor at the same time, so pick your categories. For the rest of your things that you won't be using, you can start packing. You'd want to be ready to move at the earliest possible. Perhaps even start packing two weeks before the moving day. You might want to wash curtains, bed sheets, pillowcases, towels, amongst other items, before you pack them. The last thing one might want to do is wash dirty clothes after a big move to a new home.
The kitchen can be very tricky to pack since most of those items are fragile. If you're packing peanuts, make sure it's in a container that won't open easily. For fragile items like cups, utensils, and plates, use enough wrapping paper, towels for cushion, or even stack plates and cups on top of disposable plates and cups for protection. First, put together items that fit together on the box or a bag. Storage items might fit well with kitchen supplies.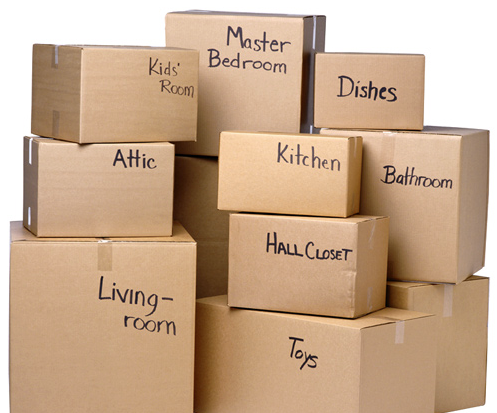 Label it!
Once you're done with a moving box, you can use your packing tape to close it and make sure you put a label and write on it a quick summary of what's inside. Write the label on the side of the box, not the top. Remember you'll stack boxes on top of each other. 
Remember that while you are filling the boxes to allow for free moving spaces, you don't want to stand your loved ones on a corner because of all the boxes. Put the big ones on the bottom and stack the small boxes on top. This will allow for more free moving space for all in the house. A room is very important in the moving process. 
Remember your essentials box for last-minute items, as most of them, will be in your room. Heavy items like furniture or TV sets can be left for last. Before you unplug your TV or computer sets, it might help to take a picture with your smartphone of the cable arrangement. That way, you won't struggle to replug things in their place.
All the above moving tips will make your unpacking much more manageable, and it will help save time in the overall process.
Think outside the Box: A PACK of ideas
Boxes aren't the only thing you can use to pack your items. It's not just about moving and packing boxes. Heavier items may be wrapped up using wrapping paper or even bags if you run out. 
You may stack many hangers with clothes under one wood or a hanger made of strong material, using it as a provisionary hanger rack. Then you can use a trash bag to wrap up all those clothes. A rubber band can be used to keep hangers from falling apart or for closing up bags. 
You may reinstall the furniture knobs to be on the inside instead of the outside, then use tape or wrapping paper to keep the drawers from opening while you move them around.
Use your suitcases to fit in items like books. Fold the edges of the tape on top of the boxes so as to resemble an arrow so that when you unwrap, you'll be able to rip out the tape easily. If you must disassemble furniture, use a bag to put the screws and tape the screws bag to the furniture so that you don't lose them.
Making sure you take extra care of delicate objects will undoubtedly save you troubles. You may put important pictures inside a pillowcase to avoid the glass to break. Use the space in kitchen pans to put things inside them. Thinking outside the box helps ease the transition into your new home.
Moving day!
Let's start by saying that moving day can be stressful. You've followed the moving tips in these articles or even other moving tips from family and friends. You've done all the packing for your big move. The big day has arrived, what to do now? What do you need? 
The moving company will take care of things, but we could use your direction and instructions. Have trash bags and plastic wrap ready to go. Things like tape, wrapping paper, as well as free space around the house will make moving things to the truck a lot simpler. 
While moving stuff to the truck, you might want to keep certain items together, such as fragile things in a place that will be safe for them, especially if you're moving far away. Garbage bags will also be helpful for the inevitable trash on moving day.
Movers know that you may not have absolutely everything ready for moving day, but as professional movers, we may assist with wrap, plastic, label, boxes, or other items you may need. We will also be there for last-minute packing tips. We'll be there when you need us. 
Transporting everything from the office or home to the moving truck may require your feedback. Perhaps it would be convenient to know which box did you pack dishes or other delicate items.
Wrap it up!
What have we learned? Here's the rundown …
Keep it simple! Purge and declutter

Make an essentials box

Get moving supplies

One room at a time: Lay it out!

Label it!
Packing, moving, moving boxes, storage, moving truck. These words will be on your mind during the period that you move. By the time you're done, you'll be thankful it's over and that you won't have to think about packing for a while. 
There are many lessons to be learned in another home or office. As you say goodbye to your old place, pack with you all the beautiful moments you had in that place, and take them with you. Pack the joys, pack the disappointments, pack the good and the bad times. These moments will always be yours. Take them to your new place. However, if you still have questions, that's what professional movers are for. You may contact us through your email address or phone, and we'd be happy to assist. The principles of what Jony Ive said many years ago still apply today. Let us help you to bring order to complexity. We've got experience with the moves. Make your move, not just a move; but a smart move!