Planning a move is always complicated. With so many different factors to consider, some people feel overwhelmed even before the process begins. Thankfully, with timely arrangements, any move can be a breeze. As long as you are willing to do some research, start packing early, and get the right assistance, your move can go as smoothly as possible.
Even if you are pressed for time and need to arrange a move quickly, these moving tips can help get you on the right track. No matter how big or small your upcoming move is, it's possible to complete it fast and avoid any major losses.
Do you have a move coming up? Here are a few important tips to make it easier.
1. Start Planning Early
Planning is an essential part of any move. The faster you start planning, the smoother the process will go. By arranging as much as possible in advance, you can be 100% ready for the move when the date arrives.
Create a checklist and timeline of things to do before, during, and after the move. Today, you can find some helpful apps to simplify move planning. However, a pen and paper will do just as well.
Here is a checklist for your reference.
Give notice to the landlord (if applicable)
Set up the moving budget
Research moving companies and hire one
Make arrangements with old and new utility providers
Arrange packing boxes and supplies
Make an inventory of your things (donate, sell, throw out, keep)
Create a room-by-room packing schedule
Fill out the change of address form
Pack and label all boxes properly
Ask friends or family for help if necessary
Consider making adjustments to suit your plans. Commercial moves are different from residential moves. They may require you to put together additional tasks.
2. Choose the Right Moving Company
It's possible to arrange a move without professional moving services. However, expert movers can simplify the process tremendously. From helping you pack furniture, clothes, books, electronics, and other items to making sure they are safe during the move, these professionals are irreplaceable.
Choosing the right moving company can take a while. Depending on where you live, you could face a big selection of movers. Consider choosing movers in your area. Remote moving services are not always trustworthy.
Things to consider when choosing the best moving company for your needs are:
Number of people and trucks – if you are planning a big move, two movers and a moving truck are hardly enough. A lack of manpower could slow down the process.
Packing supplies and equipment– from big and small boxes to ropes and dollies, the company should have sufficient supplies and equipment to handle your move.
Storage services – you may need mobile storage to simplify your move, especially if you are moving into a smaller home.
Other services – find out what other services the company offers, including packing.
Reviews – pay close attention to online reviews. You can also ask the company for references.
Experience – consider picking a company that has been on the market for at least a couple of years.
Always book a company in advance. Weekends and time after business hours are often booked several weeks before the date. Pick the moving company and make arrangements as fast as possible.
3. Review Your Items
Before you start packing, make an inventory of the house. More often than not, we keep many unnecessary things in our homes. To simplify the moving process and spend less money on it, consider getting rid of items you won't need in your new home.
To do that, you need to declutter your old house. Take a large garbage bag and review each room in your home. Make sure to fill up the bag. Get rid of all items you haven't used in the past year. It goes for clothing, electronics, and even furniture.
Here is what you can do with items you no longer need:
Donate to charity
Arrange a yard sale
Make gifts to friends and family
Throw out
If you want an extra incentive to deal with unnecessary items, think about where you'll put each one of them in your new home. If all you are doing is mentally filling up all the free space in your future basement, double your decluttering effort.
4. Start Packing in Advance
Once you get rid of all the unnecessary items, you can start packing your things in advance. If you are planning to do the packing on your own, you need the following items:
Bubble wrap for delicate things
Packing tape
Plastic wrap
Cardboard boxes (large and small boxes)
Garbage bags
Start by packing seasonal items, which you don't currently use. By doing this ahead of time, you can minimize the effort in the week before the moving day. Even if you are planning to hire a moving company to help you with packing, some of it will still need to be done in advance.
Here are a few packing tips to take advantage of:
Always choose high-quality cardboard boxes. You can visit nearby stores to get free boxes. However, don't settle for old, damaged, and extra small boxes. They could spell trouble during a move.
Take packing one step at a time. If your move is still weeks away, you can pack for one hour a day so the process is less stressful.
When the time for major packing comes, consider packing one room at a time. For example, start with the bathroom and end with the kitchen. This can help you when you unpack.
Use bubble wrap and packing tape for packing delicate items. Pay special attention to electronics. You may want to transport them in your personal car instead of stacking them into a moving truck.
When labeling the moving boxes, always write the information on their sides. When in the moving truck, these boxes will stand one on top of the other, making your writing impossible to read.
Try not to leave empty spaces in boxes. Otherwise, items will move around inside, causing damage to each other.
Leave packing heavy items like appliances and furniture to professional movers. This can make the process much easier.
Leave your clothes on hangers. This can save you a lot of time on packing and unpacking. It's easier to get large moving boxes and pack clothes "as is".
Take pictures of the items in each box to figure out which belongings to look for when unpacking in the new home. You can also take pictures of items before packing to have an easier time arranging them in your new place.
Some people prefer color coding boxes by rooms (kitchen, living room, bedroom, etc.). This can save time when unpacking.
While using the above packing tips, continue taking an inventory of your items. You could still find things to get rid of. Even if there is no time left for a yard sale before the moving day, you can keep the belongings in storage to sell or donate later.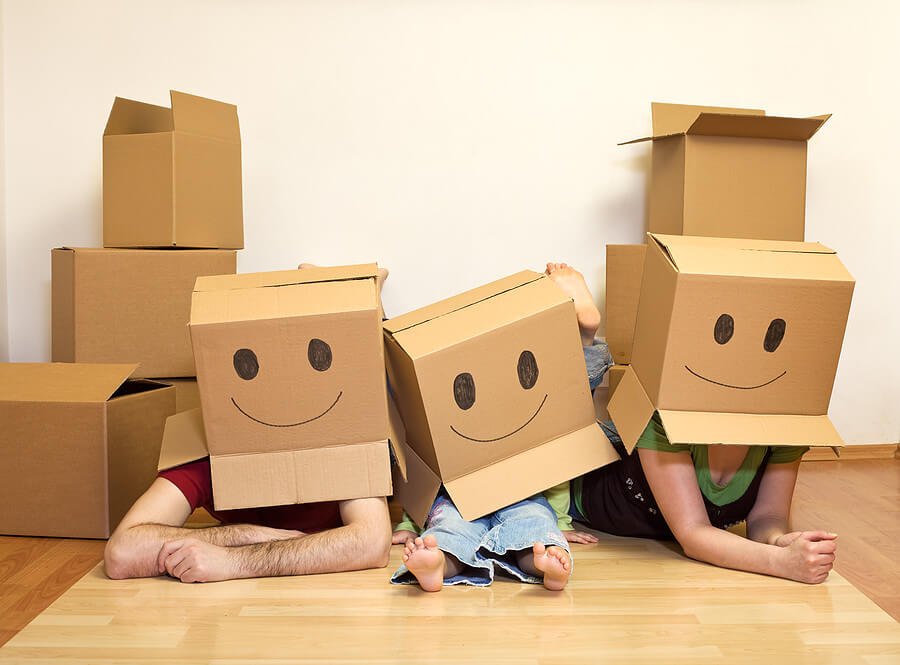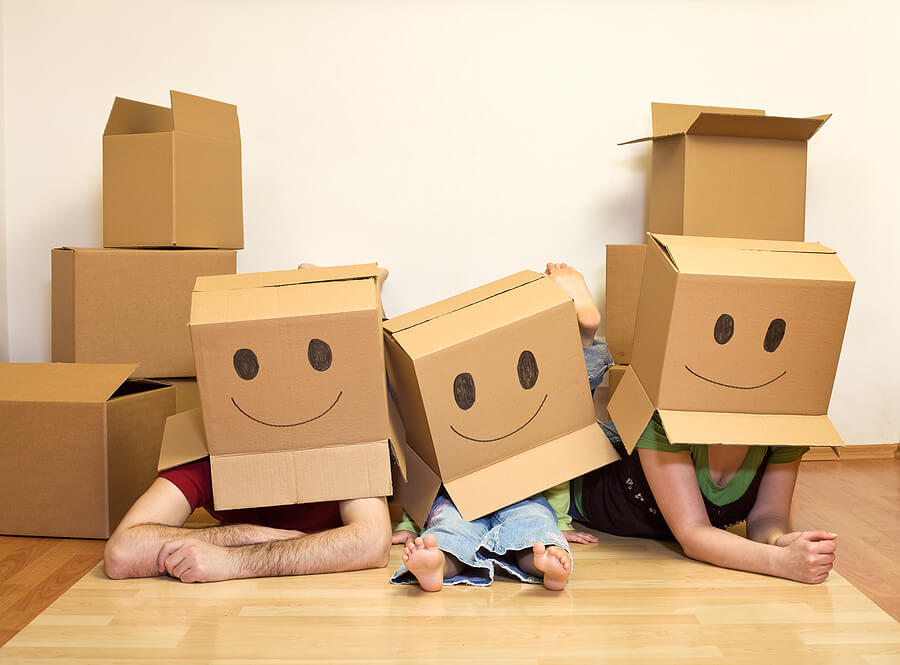 5. Use Household Items for Packing
When trying to find packing materials, consider using items that you already have at home. Take advantage of pillows and blankets when packing delicate belongings. Some people prefer to use linens in addition to bubble wrap.
When packing your kitchen, it's easy to find a variety of storage options. For example, you can use pots and pans to pack small stuff like cutlery. Always put some plastic wrap over things that might spill like cleaning supplies. Ideally, you should place them all upright in the same moving box and tell professional movers to be careful when transporting it.
Take advantage of suitcases, garbage bins, and other containers. Just make sure to use the packing tape to hold everything in place. When you put large items in the box, add small light items to make sure the box is full.
Consider taking advantage of drawers as well. Before disassembling furniture, you can take out the drawers and fill them with things like small boxes, books, or clothes on hangers.
6. Be Smart About Stacking
If you aren't planning to hire professional movers, you need to learn how to stack items in the moving truck. You need to place heavy boxes on the bottom and light boxes on the top.
Remember, the things you place in the moving truck last will come out first. For example, items like furniture and appliances can go in last. While it's not an essential part of the move, you'll have a much easier time unpacking everything once you arrive at the new place.
Stacking heavy items on top of each other can be tough. If you plan to move a lot of heavy stuff, consider hiring a professional moving company. Dealing with heavy items can be highly strenuous for your health.
7. Avoid Last-Minute Plans
When it comes to moving, leaving even the tiniest task for the last minute can ruin the entire moving day. Some people believe that they can pack some items on the morning of the move. Or call the utility company a day before the move. In reality, when the moving day comes, you'll be overwhelmed with other worries.
Anything that you managed to leave for the last minute is likely to interfere with the process, leaving your frustrated. Many unexpected things can happen on the day of the move, slowing it down. You'll be busy with other important things to make moving faster and easier.
Try to finish all your tasks a couple of days before the move. A day before the move finish all the packing. On the morning of the moving day, you should be ready to start moving stuff out as soon as you wake up.
8. Ask for Assistance
Even if you plan to hire professional movers, you can still ask your friends and family for assistance with packing, getting rid of unnecessary items, arranging yard sales, and more.
If you want to move on your own, you need as much help as you can get. Moving heavy items like furniture and appliances requires a team of several people. Otherwise, you could be facing health issues.
Don't hesitate to call as many people as you can to help you during the move. They can help you put everything together, pack your belongings, arrange transportation, and much more. When it comes to a large move, delegating tasks is highly important.
Even if you know how to arrange the move from start to finish, without assistance, you risk making unfortunate mistakes.
In case you hire a professional moving company, don't hesitate to ask at least one friend to help. Their support can help you feel more confident on the moving day. The last thing you want to feel is annoyance or frustration.
9. Pack Top Priority Items
When you arrive at your new place, you'll need some items immediately. That's why you should pack a top-priority back and transport it in your car. It should contain such things as:
Change of clothes
Toilet paper
Toothbrush and toothpaste
Snacks
Cooler with food and drinks
You should also pack one box with linens, slippers, and other items you'll need for your first night in the new home. Don't forget to label that box and place it right near the moving truck's door. Don't use too much tape, so it's easy to unpack.
To make the moving day easier, think about your comfort first. It's an excellent way to keep your sanity during the process. This is much more important than following any of the above moving tips.
10.  Make Plans for Unpacking
Once you've done all the moving day planning, start thinking about the unpacking process. It's much better to plan for it instead of rushing around the new house, trying to get things done as fast as possible.
Here a few unpacking tips to consider:
Order food. If you haven't brought enough food with you, order some before you start to unpack.
Start with the kitchen. The kitchen is the most important place in your house and it takes a long time to unpack. Once you are done with the kitchen, you are ready for just about anything.
Set a timeline. You have to set unpacking deadlines, or the process can continue well into the night. You don't need to unpack everything in one day.
Get rid of boxes as soon as they are empty. Each box takes up plenty of space in your new home. Don't start your new life with clutter.
Read each label carefully before unpacking. It can help you stick to the plan.
Don't hesitate to use storage when necessary
It's easy to lose track of time when you are unpacking. Take the process one step at a time.
Conclusion
These moving tips can give you an excellent start in planning the moving process. It's hard to plan for everything. However, you can make the move easy by preparing carefully. No matter how much time you have before the move, start doing some tasks as soon as you know the date.
Early planning can help take the stress out of the process and make sure you don't forget anything. Good luck!